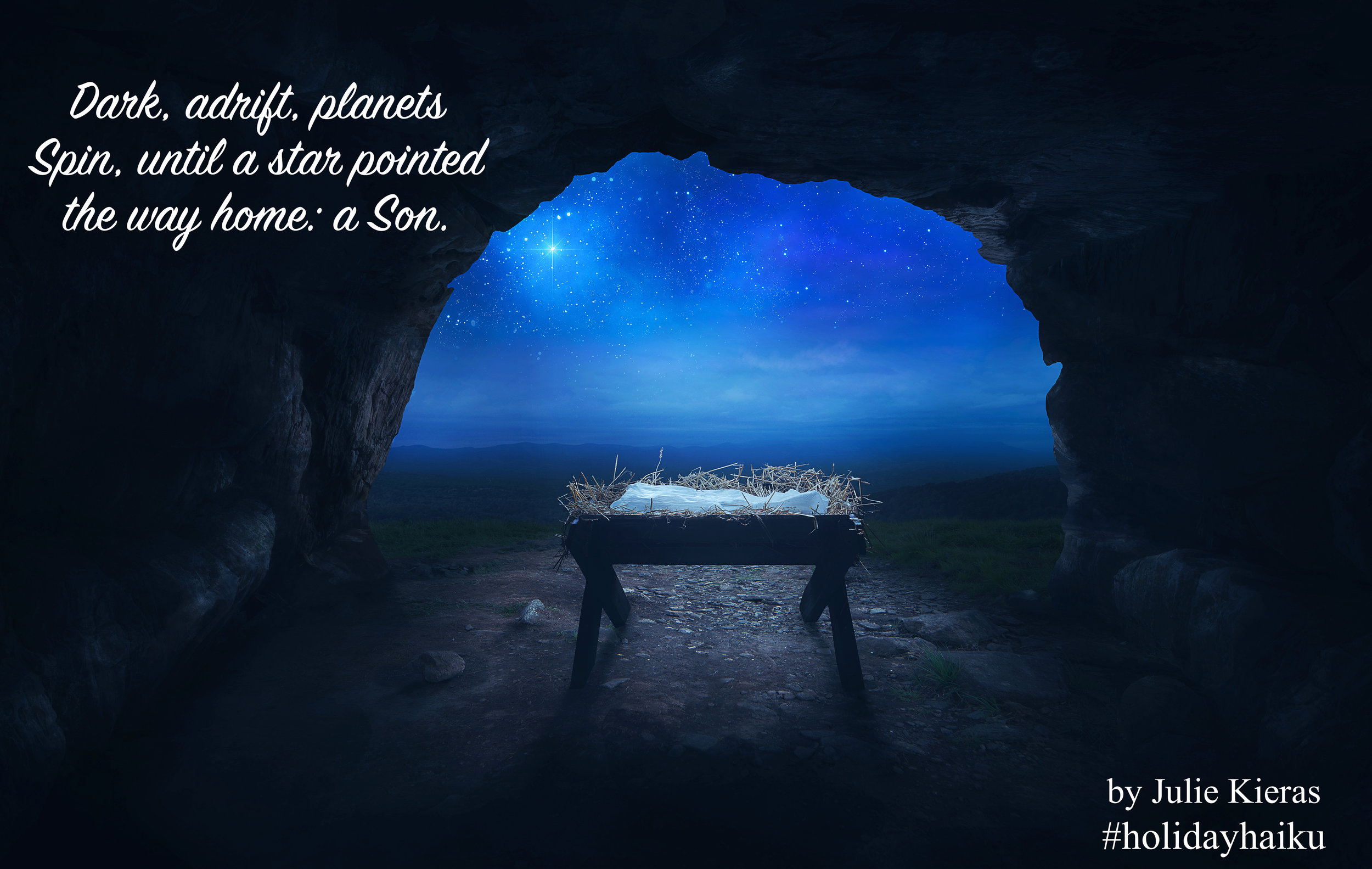 Welcome to Day 4 of our Holiday Haiku Challenge.
Today's guest is Julie Kieras, author of the popular website happystronghome.com. Julie and I "met" a little over a year ago when she ran a series on her blog entitled, "The Poetry of Parenting Boys". As a BoyMom myself, who also happens to love poetry, I knew immediate that I had found a soul sister. We've been scheming up a way to work together on a project ever since!
Julie chose today's Holiday Haiku Challenge writing prompt:
Strands of Christmas Lights
---
Light is always needed in the dark
By Julie Kieras
Colorful leaves give way to colorful lights in my part of the country. This year, I spy Peanuts gang instead of peaceful manger scenes as I drive through towns and neighborhoods.
Yet as municipal decor grows increasingly secularized, one standard Christmas decor remains: lights. Lights looping around evergreens, rooftops, and doorways. Telegraph lines of lights sending dotted messages down streets.
Winter's season is darker than the others by nature. And Light is always needed in the dark.
"The people that walked in darkness have seen a great light." Isaiah 9:2
People walk in darkness of the soul these days, just as Israel walked in darkness.
Passage after passage in Scripture reveals the need for the Light of the Gospel to shine forth from our hearts to the world. Jesus said both "I am the light of the world," and that "ye are the light of the world." (John 8:12; Matthew 5:14).
So when Wendy invited me to write a haiku for Christmas - a small dwelling place in a poem - my heart was drawn to speak of the Light that came for us through the darkness.
I hope this haiku shines into your holiday celebrations, and that you are blessed:
This year as you walk through bedazzled streets and shops, each time you see a strand of Christmas lights, dwell on the image of God, commanding the light to shine out of darkness (2 Corinthians 4:6) into the hearts of men.
Lord, may Your Light shine forth from our souls, that those who see it may be drawn out of darkness to You. Amen.
Amen
---
Don't forget to use today's post to inspire a holiday Haiku of your own. Share it in the comment thread below or post it to Instagram #holidayhaiku
For more information about this series... start at the beginning.