We're in for a treat today. I've invited my friend, Heidi St. John, to tell it to us straight. Because it's hard to parent gently and from a place of peace and calm when we're bouncing around on the dramatic waves of our feelings every day! Are you addicted to drama? Is it effecting the way you parent? The way you feel? The way you walk through life? And are you exhausted by it all? Read on...
Hi. My name is Heidi, and I'm a recovering drama addict. (See? Was that so hard?)
Like any addict, a drama addict usually needs a good, hard lesson about the pitfalls of being an addict in order to quit. Now I could go on and on about mistakes I've made in my relationships with other women over the years — hills I died on that in hindsight were relatively unimportant, words I said that cause hurt when I should have spoken words of healing, and conversations I engaged in that did more harm than good. But enough about me.
When I finally decided I wanted to get off the drama train, certain things became clearer for me. The first thing I noticed was that people who are addicted to drama actually invite it into their lives. They can't wait to tell you about their unkind friend or their nasty relative. The other thing I noticed was that almost 100 percent of gossip-based drama is negative in nature. So at the risk of sounding like a prosperity preacher, let me just say this: negative thoughts and wds eventually bring about negative results.
See if you can recognize any of the telltale signs of a drama addict. Drama addicts...
INSERT THEMSELVES INTO SITUATIONS WHERE THEIR PRESENCE ISN'T NECESSARY OR WARRANTED.

GET PEOPLE STIRRED UP OVER THINGS THAT ARE OF LITTLE TO NO SIGNIFICANCE.

"NEED" TO KNOW ABOUT RELATIONSHIPS THAT AREN'T THEIR OWN.

LIVE IN THE PAST.

BELIEVE (OR AT LEAST CLAIM) THEIR MOTIVES FOR DRAMA ARE PURE (E.G., "I JUST WANT TO HELP!")
Recognize anyone from that list? Recognize yourself? If so, it's time to get off the drama train. Be a no-drama mama! Moms today have enough on their plates without adding unnecessary drama to the list.
Maybe it's the fact that I'm well into my forties now, but I think I finally understand the value of pursuing peace. These days I actually don't want to know why so-and-so and what's-her-name from the co-op aren't speaking to each other anymore. I don't have the emotional energy for such talk, but more important, God says it's not pleasing to Him. Proverbs 21:23 makes the consequences of meddling clear: "Those who guard their mouths and their tongues keep themselves from calamity." (NIV)
Did you catch that? Calamity.
Hey, don't look at me. God said it — I didn't. Calamity is the sure result when we fail to control our tongues. The Word of God says over and over that our words have power: life or death is in the tongue.
Solomon, who is considered one of the wisest people who ever lived, knew a thing or two about the power of the tongue. Listen to his admonition: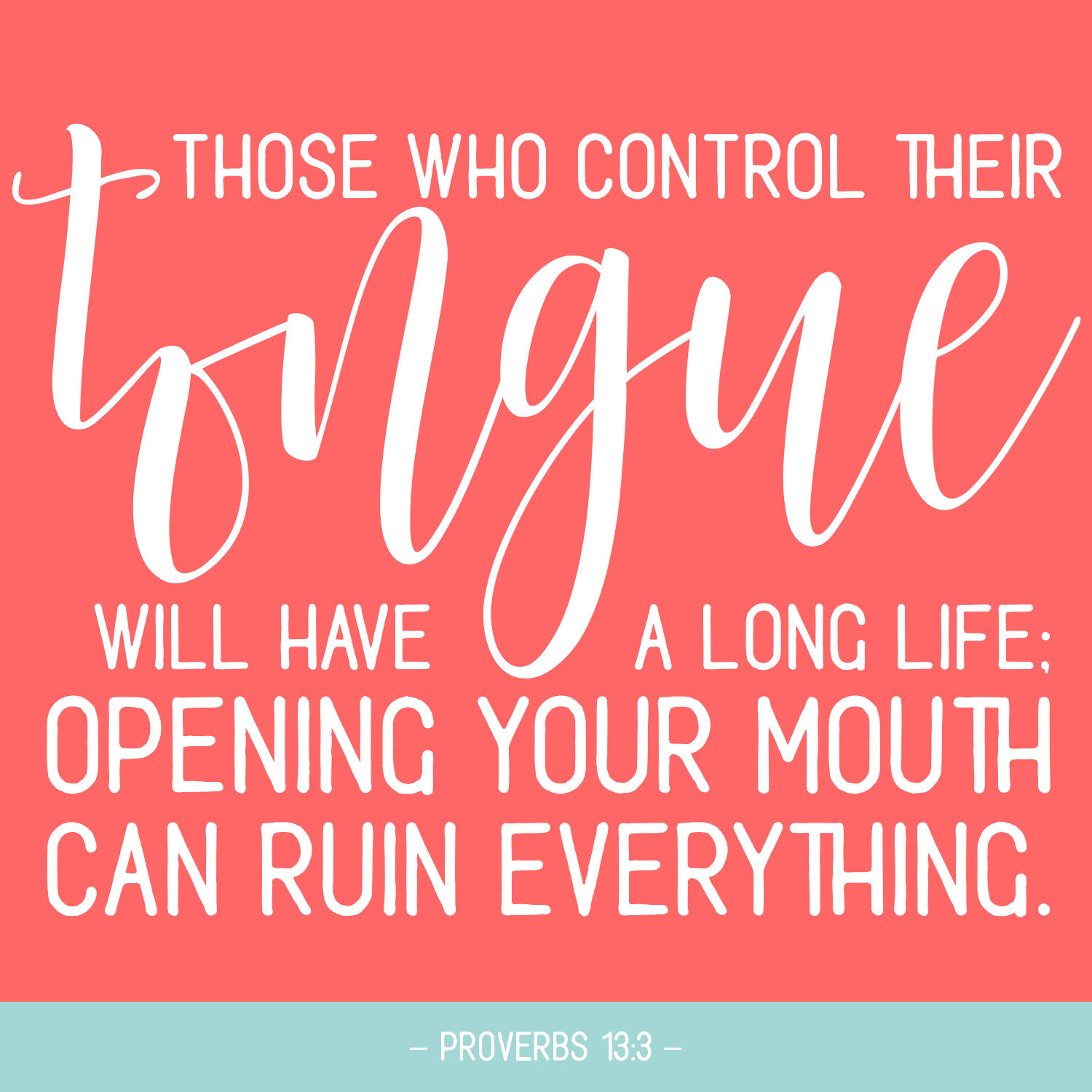 Those who guard their tongues preserve their lives. 'Nuff said — in theory. But the truth is, even though we know better, we still have trouble controlling our tongues. So what is about this issue that hits every woman at her core?
In this age of reality TV, we're rapidly becoming addicted to having TMI about other people. And how can we avoid the information overload? The gossip-driving, drama-rich culture of the "real housewives" of New Jersey and Beverly Hills has made it's way to households in places like Battle Ground, Washington. Where I live. It's not new, really. I mean, all you have do is look back at the story of Abraham's wife, Sarah and her servant, Hagar. Sarah actually asked Hagar to sleep with her husband, Abraham, because, after all, all the other men's wives were bearing children for their husbands. We seem to be wired for competition, not contentment — but God says we can be content as long as we're looking to Him and not to others to find the measure of our worth.
Yes, drama happens everywhere, but fortunately, we get to decide whether we will participate or walk away. If you want to become MomStrong, then I encourage you, for the sake of your sanity and for the sake of your children, to walk away. Walk away carefully, though. Don't get all hyper spiritual about it and announce that you're walking away because you're holier than your friends. Behavior like that will land you in good company with the Pharisees. Remember them? They wanted everyone to know they were better than everyone else. Don't replace unrighteous behavior with self-righteous behavior. In situations like this, actions are what count. Just walk away.
You may not feel like you have the inner strength to avoid drama, but take heart — you don't have to do this alone. When we listen for the Holy Spirit, He will guide our words and our actions. We can learn to live in such a way that we sense God's hand on our shoulders (or in my case, over my mouth!) whenever we're tempted to stir up or engage in drama. When we walk with the Spirit, He tells us when to speak up and when to be quiet. He's good like that. So when you sense God say, "This isn't for you," quietly excuse yourself.
That's right — walk away. There's nothing to say (or listen to) here.
Bottom line: if we want our kids to be disciplined in the art of recognizing and avoiding drama, we have to be able to do it first ourselves. The greatest motherhood challenge is to discipline yourself to know when to walk away. Believe me: it's better that way. If you choose the path of discipline, you won't have to live with the sting of regret.
Heidi St. John is the author of Becoming Mom Strong. She is a popular conference speaker and host of The Busy Mom podcast. With a heart to convey encouraging, relevant, biblical truth for women, Heidi travels and speaks all over the country before audiences as large as 20,000. Heidi and her husband, Jay, are the founders and executive directors of Firmly Planted Family Ministries, a homeschooling discipleship organization. Heidi and Jay have been married for 25 years; they have seven children (ranging in age from early elementary school to adult) and two grandsons. The St. Johns live in Washington State.