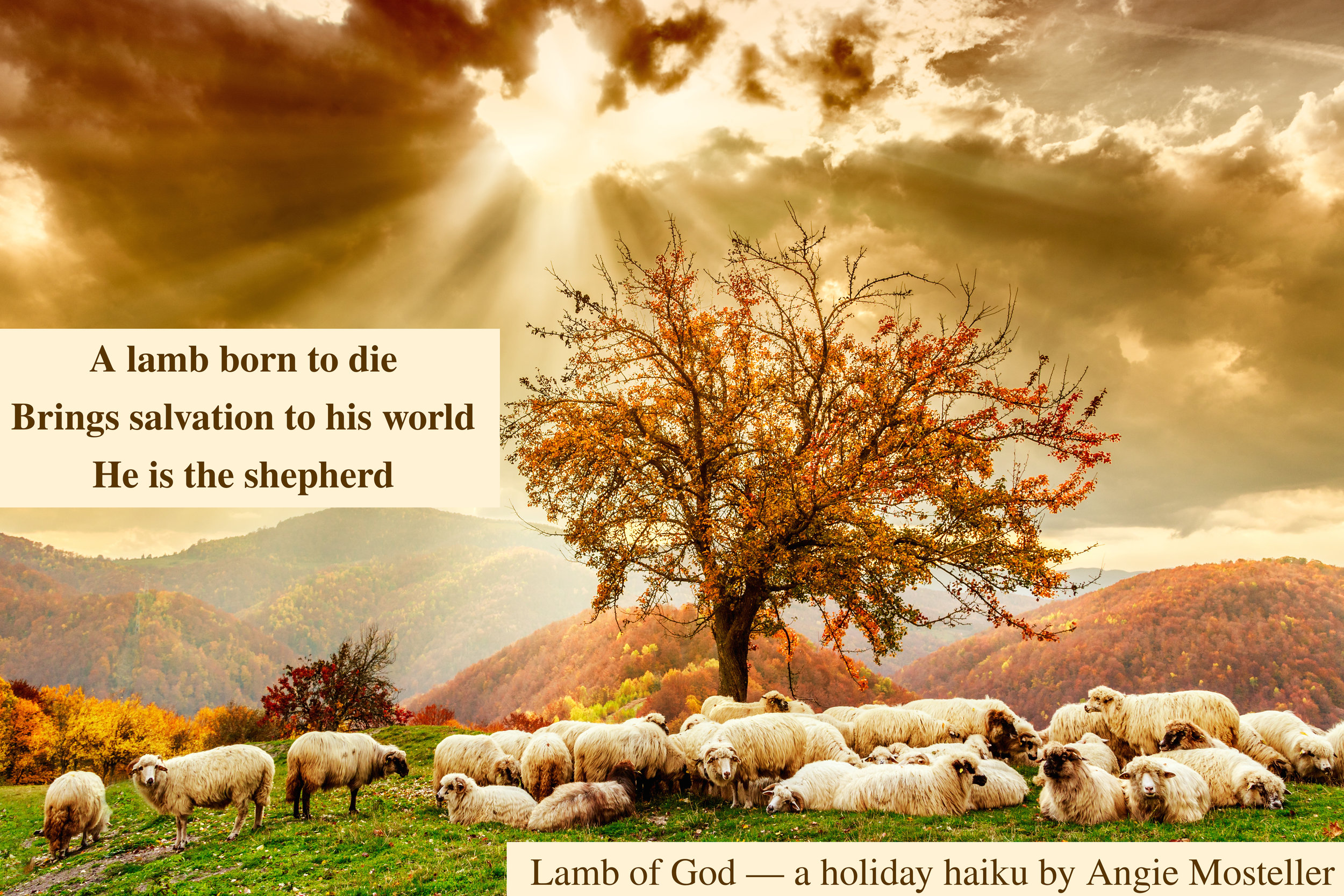 Welcome to Day 11 of our Holiday Haiku Challenge Today's guest, author Angie Mosteller, has thrown down the poetic gauntlet. Join the fun by penning a simple haiku inspired by Jesus, the Christ-child, the Holy...
Lamb of God
Lamb of God
by Angie Mosteller
As we celebrate the birth of Jesus, I cannot help but ponder the fact that he was born to die – that God's intention from the beginning of the world was to give his life for the sins he knew we would commit. Only a perfect human life could atone for human sin. Thus, the God of the universe entered into His own creation in order to give his life as a sacrifice for us.
Jesus is often called the "lamb" because in Jewish tradition, it was most often a lamb that was sacrificed for the sins of the people. Yet, Jesus "the lamb" is also our shepherd. Jesus said of himself, "I am the good shepherd. The good shepherd lays down his life for his sheep" (John 10:11). Not only did the shepherd lay down his life for his sheep, he actually became one himself. What a great mystery! The shepherd became a lamb in order to save his flock. Interestingly, the title most often applied to Jesus in the book of Revelation, and the title that he carries into eternity, is "the Lamb." The Bible records that at the end of time, "the Lamb at the center of the throne will be their shepherd; he will lead them to springs of living water. And God will wipe away every tear from their eyes" (Revelation 7:17).
Angie is a follower of Christ (of the evangelical sort), the wife of a smokin' hot philosophy professor, a homeschooling mom, and author of the book Christmas, Celebrating the Christian History of Classic Symbols, Songs and Stories. In her free time, she likes to work on her website Celebrating Holidays where she gathers resources to help families build fun and meaningful traditions. One of her favorite Christmas traditions is to sing a classic hymn or carol with her family each night (and if you enjoy poetry, you will be surely be moved by the rich and beautiful language of these songs). Angie has compiled 25 Days of Christmas Music on her website, and if you want to sing along, there is a lyric video for each song!